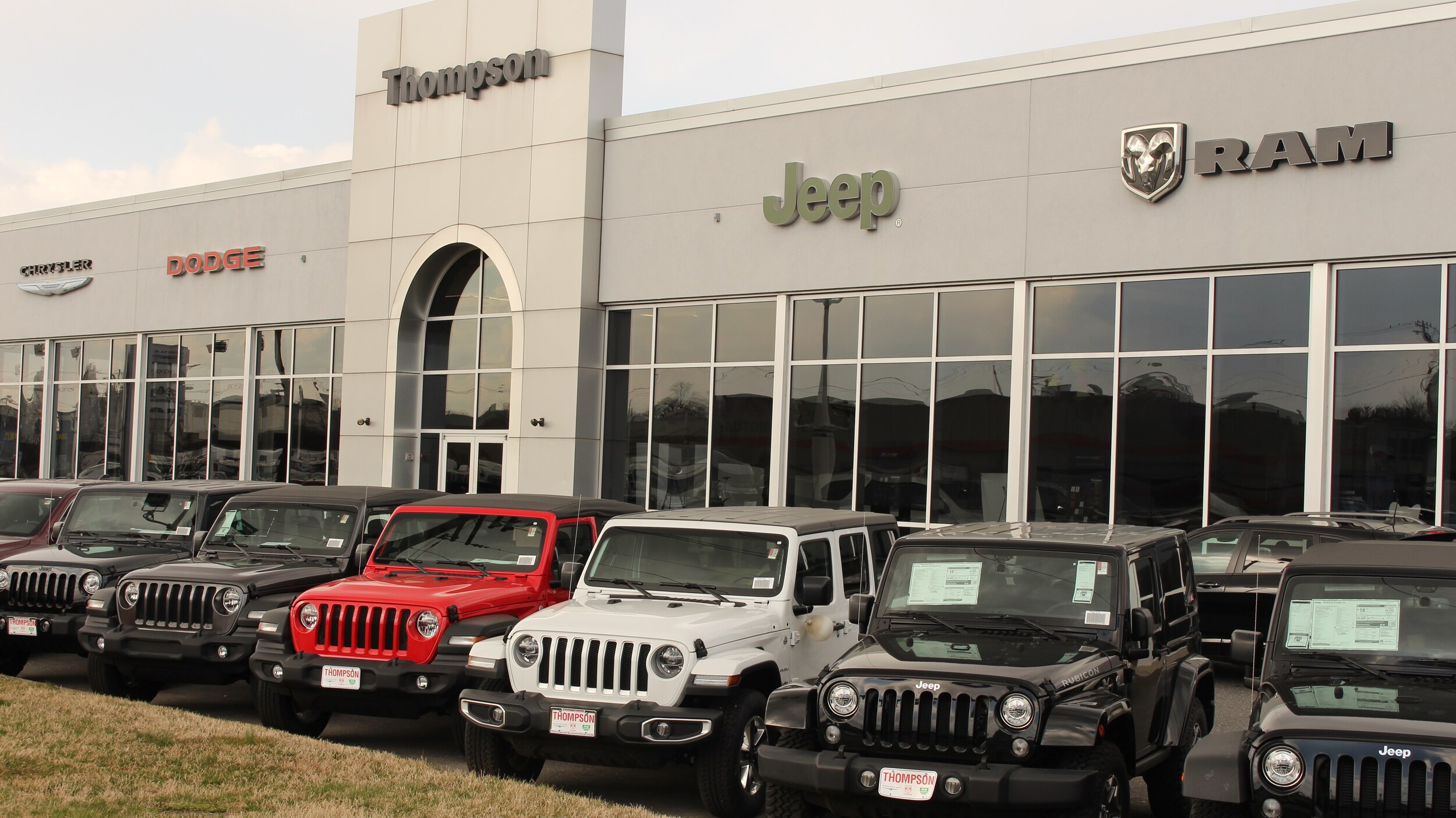 About Thompson CDJR 

Your Local Jeep Dealer in Baltimore
Thompson Automotive boasts an exciting past tracing back over 91 years ago. Although your hometown dealership has undergone many changes in that time, one thing has remained the same: Our commitment to give our community a hassle-free sales & service experience. We are proud to serve our local customers in Dundalk, Nottingham, Baltimore, Essex, Parkville, Edgewood, Fallston, Bel Air and White Marsh as well as those that travel from across county and state lines to experience the Thompson difference.
The History of Our Dealership
Our dealership has a storied history beginning in 1929 when our founder, Edmund Thompson, opened a Try-Me Service Station. Mr Thompson's belief that premium service should not come at a premium price fueled the small Try-Me Service Station's success. In a few short years he reinvested in the community and opened his first car dealership with the same service driven model knowing that if customers just "Tried Thompson" they would experience the Thompson difference and the business would continue to grow.
Thompson's love of the industry and his commitment to service eventually led him to open multiple dealerships and expand on his service model by creating the slogan "You don't just buy a car you buy a company" He wanted every customer to be treated by as if they were not only part of the family but owners of the dealership. That philosophy has been passed down since 1929 through four generations! Even today, in the world of mega-dealers and corporate conglomerates you can still find a Thompson at the dealership making sure that when you purchase or service at Thompson you are treated like more than a number, you are treated as if you were an owner and part of the Thompson family.
In November 2019 Mr. Ed and Mr. Gus Thompson were inducted into the Maryland Auto Dealers Association Hall of Fame. This honor was earned by the founders and is carried on in each and every one of our facilities!
The Thompson Difference Today
In 2020 we celebrate our 91st anniversary and in the spirit of our founder's philosophy, we decided to ask you, the customer what you hated about shopping for a car. After surveying over one thousand customers it all boiled down to three things:
Transparent Pricing
- You told us that you were tired of shopping for prices online and finding out later that the price that was listed included every "discriminative" rebate that you do not qualify for and you had to add fees such as freight to the sale price. You felt it was mis-leading and dishonest. Unfortunately this is how every new car dealership advertises new car prices....at least until now. Although we knew that we ran the risk of appearing to have a higher price than our competition we listened because we also knew that someone has to be the first to break this mis-leading practice and anything else would not be living up to the Thompson philosophy. Every car listed online has a guaranteed Thompson Transparent Price that every customer qualifies for. There is no adding freight or adding back rebates that you don't qualify for. Those other "discriminative" rebates such as lease loyalty rebate, conquest, or special group rebates are listed under the Transparent Price so that you can check if you qualify for them. If you do just take it off your Transparent Price.
Time
- You told us that the amount of time that it took to purchase a car was way too long and we agreed so we invested in new hardware, software, and stream-lined our process. The investment has yielded amazing results. We are able to deliver you a new car or truck in an hour or less from the time you say yes. We are so serious about this commitment that each sales person has an hourglass on their desk that is flipped once you are ready to purchase to remind all of our staff how important your time is. You should not have to spend all day at the dealership to purchase a car.
Your Trade In Value
- You told us that you did not like the dealer just giving you a value and taking their word for it so we listened again. Every car is appraised as soon as you arrive at the dealership so that the manager has time to shop the very best number while you are inspecting your new car. We also invested in software so we could provide you with third-party data ensuring that you know how we arrived at the value.
These were the issues that you told us that you wanted changed about car shopping but our commitment to your satisfaction does not stop there.
Sales Associates - We are focused on hiring, training, and retaining long-term employees that take care of our customers long after the sale which is why we don't pay them on sales alone like other dealerships. A significant part of their pay is based on your shopping experience, delivery satisfaction (including the hour or less), product knowledge, reviews, and if you come back for your next purchase or refer a friend. After all, the greatest testament to superior customer service is repeat business or word-of-mouth advertising. It is what the Thompson Brand was built on.

Click here to view our staff and their reviewsFinance
- We have worked hard to forge strong relationships with lenders for your finance needs so that we can get you the lowest possible interest rate and the best possible payment terms. We are partnered with over 30 banks and credit unions and if you happen to be paying cash or have already secured financing with another lender...we sell cars not money so our sale and trade numbers will never change.

Second Chance Finance
- Just because you have had a bump in the road in terms of credit, it does not mean you should be treated any differently. Our special finance department's only job is to find you the best available terms to help you reestablish your credit. Under the rare occasion we are unable to get you financed, we won't just ask you to leave like other dealers. We will review your credit file with you and explain the meaning behind that Fico score so that you can work to repair the issues.
Click Here to Apply For Financing Inventory
- We have over 2000 new and used vehicles in stock at any given time but if by chance we don't have exactly what you are looking for please give us the opportunity to find it or order it for you. You will never pay an additional cost to purchase the exact car you are looking for.
Click here to View Inventory
Click here to schedule a test drive
Hours
Monday

09:00AM - 08:00PM

Tuesday

09:00AM - 08:00PM

Wednesday

09:00AM - 08:00PM

Thursday

09:00AM - 08:00PM

Friday

09:00AM - 08:00PM

Saturday

09:00AM - 05:00PM

Sunday

Closed
Directions
Get Directions